About Home-Start Leeds
Home-Start Leeds is an independent charity that began in 1987. We are affiliated to the national Home-Start UK network who provide us with training, information, support and guidance but we are responsible for our own management and securing our own funding. Our carefully recruited volunteers are all people who understand the demands of being a parent or carer and bring care and kindness to their role.
Helping families in Leeds since 1987
Our Vision, Mission & Values
Our Vision
Every parent has the support they need to give their children the best possible start in life.
Our Mission
To support parents as they grow in confidence, strengthen their relationship with their children and widen their links with the local community.
Our Values
We offer families choice
We work in partnership – with each other, with families and with other agencies
We work in a spirit of openness, encouragement and enjoyment
We are flexible and responsive to the needs of families
We want to see a society in which every parent has the support they need to give their children the best possible start in life.
The need for our work is acute and growing. In the UK right now:
6 million children live in severe poverty
93,000 children live in care – an increase of 10,000 in 10 years
1 in 10 children aged between 5 and 16 have a mental health problem
2 million children are regular witnesses to severe forms of domestic violence
We believe that the best possible start in life for a child begins at home with their family. A nurturing, loving, stable family and home environment strongly determine a child's future life chances. Children whose parents are struggling to cope can miss out on the love, routine and support that are vital for their future.
What We Do
We offer a unique, non- judgemental, volunteer led, confidential family support services.
After careful selection and comprehensive training, our volunteers are introduced to a family and become a trusted support and mentor. They visit them and their children at the family home and help in a variety of ways such as:
Listening to parents and offering emotional and practical support.
Working with them to recognise their strengths and weaknesses to support them through challenging times.
Empowering parents to engage with other support networks available within their local area.
Encouraging them to prepare their children for early learning & the school environment.
We are committed to safeguarding and promoting the welfare of children, young people and adults at risk and expect all staff, trustees and volunteers to share this commitment.
We promote equality of opportunity and inclusion for all, celebrating the difference and diversity of people and valuing the positive impact that each individual brings to our organisation.
We expect all staff, trustees and volunteers, at all times, to uphold attitudes, values, behaviour and language that underpin child centred practice
We are committed to ensuring the voice & influence of children, young people parents and carers informs development and delivery of all our services.
Our Strategic Plan 2023-2026
Safeguarding and Protection of Children and Vulnerable Adults
'Safeguarding and protecting children and vulnerable adults is everybody's business"
We believe that every child has the right to live free from abuse of any kind; and we aim to work with families and children to ensure that we will do everything in our power to keep them safe. Our Safeguarding Policy and Procedure provides a framework and guide and applies all our Trustees, Employees and Volunteers.
What if things go wrong?
Home-Start Leeds maintains a culture of continuous improvement at all levels of the organisation and strives to provide excellent services' However there can be times when things go wrong or those, we support become unhappy with the service they receive.
Complaints are viewed as an opportunity to learn and improve for the future, as well as a chance to put things right for the individual that makes the complaint. Definition of a complaint is any expression of dissatisfaction about any aspect of Home-Start Leeds. If you have a complaint, please let us know as soon as possible so that we can try and put things right.
How to make a complaint Please see below the different ways you can make a complaint
Write to our CEO Tracey Simpson-Laing at Home-Start Leeds, The Courtyard, Hope House, 65 Mabgate, Leeds. LS9 7DR or email:

[email protected]
Write to our Chair of Trustees Karen Breakwell c/o Home-Start Leeds, The Courtyard, Hope House, 65 Mabgate, Leeds. LS9 7DR.
Your complaint will be treated in confidence, acknowledged and properly looked in to. During the investigation in to your complaint your right to a service will not be affected because you have made a complaint. You will be kept informed of the progress and outcome of your complaint.
How we will handle a complaint Your complaint will be taken through a staged procedure with time scales and responsibilities for the resolution of the complaint.
---
Our Team
Staff
Our work at Home-Start Leeds is supported by our small dedicated staff team, who recruit and train our Volunteers to offer practical and emotional support in the homes of families who are struggling to cope for a variety of reasons.
Trustees
Home-Start Leeds is managed by a board of Volunteer Trustees who serve on the governance board and are responsible for directing the management and administration of the charity. The Trustees have a wide range of duties and are responsible for effectively running the charity, providing overall direction and maintaining the sound management of funds.
We are always looking for new Volunteers to help us help and support families.
---
Here are some volunteer journeys
I have been volunteering for HomeStart Leeds for almost 5 years. As an adoptive parent I'd found parenting difficult and wanted to give something back…
There have been good times, when things have turned out well and bad times too, when the ending didn't turn out as we had hoped….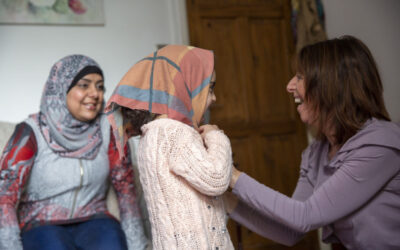 It is a cliche I know, but I have to say that it really has been a privilege to be allowed into homes as a…
View all of our Volunteer Journeys…
Here are some experiences from the many families which we support
Mum's social worker recommended Home-Start as she was struggling in lock-down with a new baby. "The Home-Start co-ordinator was lovely, so happy and bubbly, it made me feel happy".
During Covid, Home-Start have provided a range of support including computer tablets and phone calls. The tablets enabled mum to have some "human interaction". This was especially useful in the first lock-down.
Feedback from parents supported during the pandemic included "Home-Start are like angels", "They were there when I needed them", "We never knew about Home-Start before and they do amazing work, having volunteers and helping out in any way they can", "I hope Home-Start would always be around to support families in Leeds".